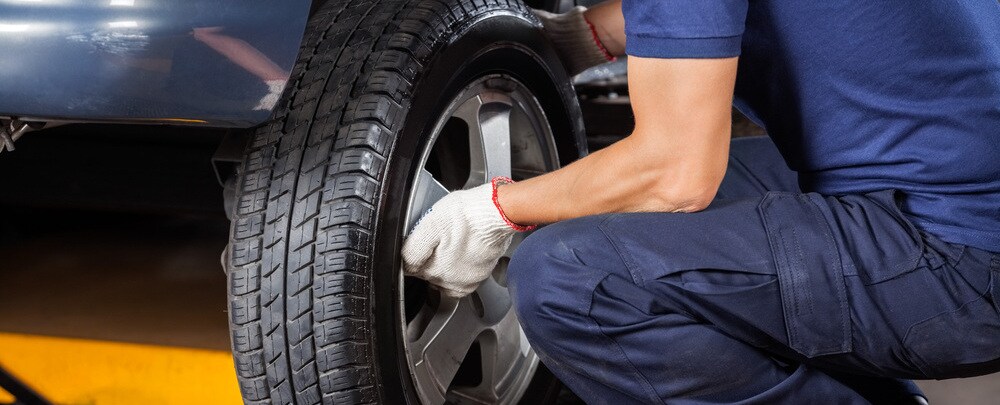 ?
Contact Us
While oil changes and fluid flushes are essential for your car's longevity, tire care is one of the most important factors contributing to your overall safety. A set of well-maintained tires has better handling, efficiency, and traction than a neglected set - and tire maintenance is surprisingly easy! In this guide, we'll go through the basics of both DIY and professional tire maintenance, so you can easily stay on top of your tire care.
Routine Tire Maintenance
While you can always take your car to the shop for routine tire maintenance, many drivers prefer to take care of these tasks from the comfort of home.
Air pressure: Use a gauge to check your air pressure every month, and fill up if needed. This is particularly important during those cold Chicago winters!
Inspection: Take a look at each tire every month to see how the tire tread and wear patterns look. This can alert you of small problems before they get bigger!
Spare tire: Before you encounter trouble on the road, be sure to double check your spare. Make sure that it is free from damage and it is properly inflated.
When to Change Tires
The lifespan of tires varies quite a bit from model to model - and driver to driver! If you surpass the load index or regularly speed down the highway, you're putting extra stress on your tires. This can lead to a shorter tire lifespan, as well as issues like overheating and uneven wear. But no matter your driving habits, every tire must be replaced over time. Here are some reasons to consult professional help:
Rotation: Even if your tread is good and your handling feels fine, it's a good idea to get your tires rotated once or twice per year to maintain even wear.
Repair: Notice something sticking out of your tire? Head to the dealership for an assessment. You might just need a repair, or it might be time for a new set.
Replacement: If your tire tread is less than 1/16th of an inch or you notice damage to your tires, get in touch with our parts department to get your tires replaced.
Find Out More with Chicago Northside Toyota!
If you still have questions about when to change tires or general tire care, then Chicago Northside Toyota is here to help. Visit our dealership, near Cicero and Oak Park, or
schedule your service online
.