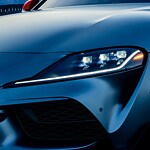 Designed to revive the popular and iconic line of sports cars, the 2020 Toyota GR Supra delivers truly superior handling and performance. Perfect for any Chicago driver who loves going fast while experiencing top-of-the-line engineering and seamless functionality, this vehicle offers a vast range of impressive and cutting-edge features. At Chicago Northside Toyota, we're thrilled to showcase some of the modern capabilities and styling that this outstanding automobile provides.
Get Maximum Performance From A Rear Differential That's Electronically Controlled
The GR Supra has a rear differential that's electronically controlled. Sensors are constantly tracking the engine rpm, brake speed, yaw rate, wheel speed, and many other factors whenever the vehicle is in operation. This data is then used to activate a multi-plate clutch that delivers the perfect amount of power to the wheels that require it.
Toggle Between Sport Driving And Normal Driving Modes
Normal driving mode is ideal for daily commutes, relaxing road trips with friends, and any other times when you want easy handling and a smooth and seamless ride. When you're ready to rev the engine and experience high speeds, however, you can easily switch into sport driving mode for increased responsiveness and an exhaust rumble that's satisfyingly deep. To test drive the GR Supra, stop by Chicago Northside Toyota today.