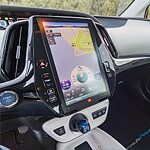 If you're on the market for a compact-hybrid sedan, then the Toyota Prius is definitely a top choice. This compact vehicle has all of the goods from cutting-edge technologies to an efficient powertrain. Consumers can also choose from many exterior paints.
The Toyota Prius takes versatility to the next level despite its small size. The interior of this vehicle is very cozy, and you will receive at least 27.4 cubic-feet of cargo space. On the other hand, consumers can expect up to 65.5 cubic-feet of cargo space when the rear seats are folded down. Soft-touch materials can also be found throughout the cabin. One of the best features of the interior is the 11.1 inch touchscreen display. This display is huge in size, hosts the navigation system and provides stunning graphics.
The Toyota Prius is on full display in our showroom, so stop by for a first-hand tour of this amazing vehicle.