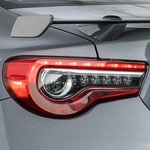 One of the most appealing things about the Toyota 86 is that it has a Granlux trim that helps to bring key points on the vehicle directly to eye level immediately. Everyone likes a heavily accented vehicle that shows off their personal style and personality. That is exactly what the Toyota 86 does with this trim.
This vehicle has been designed to be sporty without question. The seats have a red trim to them that make them very stylish and sporty, and the whole rest of the vehicle seeks to live up to those ideals as well. There is a lot of power in this machine, but it is still used by many to simply get around town where they need to go.
You get the best of both worlds when you go with the Toyota 86, and there is no reason not to latch on to both of these attributes.