photo credit: tanakaramen.com 
If you're looking for a gourmet ramen restaurant for dinner tonight, the sheer number of options in Chicago is pretty overwhelming. It's always exciting to stumble into your own hidden gem, but we've tried to do the work for you with this list of our favorite overlooked ramen spots in the city. Take a look at our top five spots for delicious ramen in Chicago.
Wabi Sabi Chicago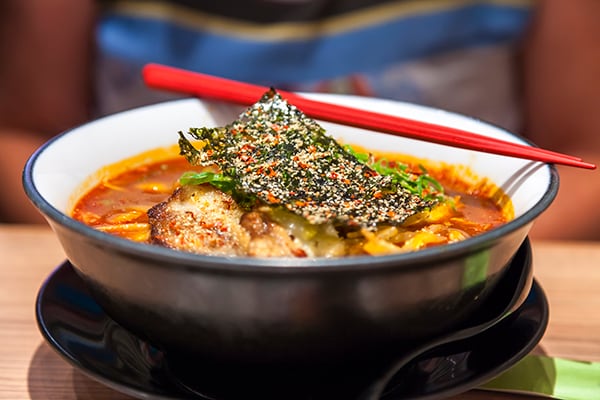 Ramen is the main dish at Wabi Sabi Chicago, but you'll also find modern interpretations of classic Japanese dishes. They only use high-quality fresh ingredients, which is even more important when it comes to specialty dishes like their perfectly prepared squid salad with pickled cucumbers and mushrooms. Another great dish is the hamachi collar, which comes in a hearty portion with a big scoop of rice, zucchini, and asparagus on the side.
Tanaka Ramen
This fresh Japanese ramen bar is our favorite affordable option right in the middle of College Station. Settle down into the wood-lined, modern interior at Tanaka Ramen and build your own ramen bowl from the homemade broth, fresh-made noodles, sides, and street food appetizers. Or opt for a signature recipe to enjoy traditional Japanese flavors! The broth makes all the difference here: it's made with a special slow steeping process with quality whole chickens, pork bones, and vegetables.
Ramen-San
This small local chain offers three convenient locations in downtown Chicago. We like the Ramen-San fusion of traditional ramen with unexpected ingredients like buttered corn, ground pork and fried chicken. They also put a big spin on your typical dining room by spinning hip-hop only music! Vegetarian tastes are covered too, with dishes like the Imperial Shio Ramen with a veg-based broth, molten egg, tofu chunks, and nori.
Kameya Ramen
A Korean touch makes Kameya Ramen stand out among lots of high-quality Japanese cuisine in the area. Dishes come in generous portions, and the rich and flavorful homemade broth elevates everything. We definitely think their interesting spin on the classics is worth the drive from Evanston! Great dishes like the bibimbap and beef bulgogi meatballs make this place a go-to comfort food spot in Lakeview -- but they deliver, too! Like it hot? Spicy actually means spicy at Kameya.
High Five Ramen
Not to pick favorites, but the teeny-tiny High Five Ramen simply has the most charm. If you're downtown from Lincolnwood for a special dinner, this one's a real treat. You'll find it tucked under Green Street Smoked Meats in the West Loop. The menu is pretty minimalist but absolutely packs a punch when it comes to flavor. Go for milder heat with savory shoyu or special ramen, or brace yourself for some serious spice!
Ask Us for More Nearby Dining and Entertainment Ideas!
If you have any questions about the ramen restaurants above, feel free to contact us. Whether you're a Chicago local or driving in from Evanston or Lincolnwood, check out our Chicago guide for Chicago attractions to visit in spring or great day trips from Chicago if you're looking to get out of the city for a day.